Winner Virginian Pilot's Cupcake Taste Test
The local cupcakes that really hit the (sweet) spot
The Virginian-Pilot
© August 1, 2011

THE CUPCAKE WAR IS REAL. Locally, it's waged in part by an invisible army of bakers. When we asked readers to nominate their favorite cupcakery for this month's taste test, a batch of certified home-kitchen bakeries materialized with legions of loyal followers. In fact, after the votes were tallied, two home-based bakeries and two storefront bakeries made the final four. At the testing table, the battle continued. There was little accord on our panel when it came to scoring these sweet treats. In fact, in our blind taste test, the favorite cupcakery for two testers was least favorite of the other two. Read on for the results of the most fractured taste test on record. 

THE TASTINGS

Red Velvet. Blueberry Bliss. Blueberry Pancake and Spicy Sweet Tea. Jelly Donut. Peanut Butter Cup. Mojito. And more. Much more.
Welcome to cupcake heaven.
Or maybe not.
On a recent Thursday evening, four testers arrived at The Virginian-Pilot's downtown Norfolk office for a blind taste test featuring fare from four local cupcakeries.
Each delivered one dozen cupcakes, pretty as you please. The flavors were baker's choice, and the spread included 26 varieties, from classic black-and-whites to a French toast confection with pats of butter on top.
Could a single bakery satisfy the masses?
Absolutely not.
Welcome to the most fractured taste test on record, where testers not only disagreed, they vehemently disagreed.
First up, Carolina Cupcakery, started by a Camden, N.C., family that expanded to Norfolk and Chesapeake and earned national acclaim.
The bakery offers 200-plus flavors and sent a dozen choices decorated with swirls of icing and drizzles and sparkles and pieces of fresh fruit.
This cupcakery got off to a solid start with a round of above-average scores for appearance and aroma, save an average score from tester Alice Meinicke, who expected more sweet scents from the Snickers and Caramel Macchiatto cupcakes she chose.
But across the table, fellow tester Angie Chambliss considered her French Toast Fanatic cupcake and decided, "It smells as delightful as it looks."
In the cake category, there was some agreement. Abby Hecht, the youngest panelist and daughter of our Gracious Living editor, liked the "smooth" and "very moist" texture of her Cookie Dough and Caramel Macchiatto cupcakes.
"Moist, tender cake," Angie said. "No tunneling, no crumbling. Very flavorful."
Hampton Roads' original cupcakery was off to a strong start.
Carolina Cupcakery is generous with the icing. Each was topped with a thick crown. But tester Sam Boone thought the cream cheese buttercream atop his carrot cake cupcake was too sweet. Alice followed suit.
But Angie and Abby posted stellar scores for the icing.
"Right-on-the-dot flavor," Abby said of the caramel buttercream on her Caramel Macchiatto cupcake.
Angie found the maple frosting topped with cinnamon drizzle "very complementary to the host," a butter-cinnamon cake.
Top scores for originality came from Abby and Angie, who called the creativity "magnificent."
With value to go, Carolina Cupcakery stood as a strong contender.
The jumbo cupcakes, 3 inches in diameter, cost $3.89 each, or $42.79 a dozen.
"The right price for the size," Sam said.
An above-average value score made Carolina Cupcakery a formidable foe.
Next up: Roxie's Cupcakes, a certified, home-based bakery in Virginia Beach where owner Laura Zimmerman whips up everything from classic lemon to margarita cupcakes.
For the taste test, she sent over a quartet of flavors: Peanut Butter Cup, Blueberry Bliss, Jelly Donut and Tuxedo Cake. Testers' scores for appearance and aroma came in slightly below Carolina Cupcakery's. Sam and Abby particularly liked the citrusy aroma of the lemon-kissed cream cheese frosting on their Blueberry Bliss.
Roxie's eked ahead of Carolina Cupcakery in the cake category, although here Angie split with the group.
"The cake is moist and fresh," Sam said, noting in particular how the batter had whole blueberries mixed in, like a classic muffin.
But Angie thought the dark chocolate cake in her Tuxedo cupcake was dry – unmitigated by the cheesecake center – and the chocolate taste "flat."
The split continued for the icing, with above-average scores from all but Angie.
"Full of flavor," Abby said of the lemon cream cheese frosting on the Blueberry Bliss.
While Angie agreed about the Blueberry Bliss icing, her simultaneous sampling of the vanilla-chocolate buttercream swirl on the Tuxedo Cake "didn't save the day for this otherwise flat cupcake."
When it came to originality, the group split in half. Abby and Alice awarded solid scores.
"Just a touch too much topping," Alice said of her Peanut Butter Cup cupcake, dark chocolate cake topped with peanut butter frosting and chopped Reese's Peanut Butter Cups.
But Sam and Angie disagreed and awarded basement-level scores, both craving a more elaborate presentation.
The cupcakes, 2 inches in diameter, cost $20 to $28 per dozen, according to complexity of flavors. That's an average value, according to these testers, which put Roxie's in second place.
Next up: Crave the Sweetery, another certified home-based bakery in Virginia Beach. Kimberly Maselli delivered a flight of cupcakes, including Blueberry Pancake, Lemonade, Red Velvet and Key Lime Coconut, decorated with a dusting of grated coconut and lime zest.
Can you say discord?
"This cupcake is picture perfect," Sam said of his Strawberry Shortcake confection, topped with a slice of fresh strawberry.
"They didn't have anything special about them," Alice said, addressing appearance.
With an anemic first round of scores, Crave soldiered on to the cake category, where Abby championed the bakery. She awarded a near-perfect score for the moist vanilla cake with a center of blueberry preserves in her Blueberry Pancake cupcake.
But Alice and Angie disagreed. Alice thought the baker might have used a tad too much vinegar in her classic Red Velvet cake. And Angie craved a moister cake, despite the crushed strawberry filling in her Strawberry Shortcake.
A low round of icing and originality scores put Crave in third place.
The cupcakes, 2 1/2 inches in diameter, cost $15 to $18 per half-dozen or $25 to $30 per dozen, depending on flavors.
Testers craved more for the price, leaving Crave in the third-place slot.
An hour or so after arriving, testers had worked their way to the end of the table, where a quartet of offerings from Dream Cake awaited them.
Dream Cake is a storefront bakery in Virginia Beach, and bakers sent over classic-sized Strawberry, Red Velvet and Carrot Cake cupcakes, plus a jumbo Mojito number.
Alice and Angie were enraptured. Alice posted the first perfect score of the night for the appearance of the Mojito cupcake, decorated with lime zest and a sprig of fresh mint.
Angie, who also opted for Mojito, dubbed it "absolutely gorgeous."
But Sam and Abby? Lowest scores possible.
"No decorations except for a couple of chocolate chips," Abby lamented of her Red Velvet cupcake.
"Very average," Sam said of the swirled pink icing on his Strawberry cupcake.
The divide deepened in the cake category.
Abby deemed hers dry. Sam thought his tangy. Their scores were on the floor.
But Angie and Alice awarded heavenly cake scores.
"Light, moist and the flavor is outstanding," Alice said.
"Very moist, fresh, and the flavor is on point," Angie said. "I see why they call it a Mojito."
A round of almost identical scores followed for icing.
"Exciting," Angie said.
"Light and airy," Alice agreed.
"Sour, gritty, not very good," Abby countered.
"I just don't like the taste," Sam said.
A schism of scores for originality was enough to put Dream Cake in third place with value to go.
Here's where Abby warmed up a bit, joining Alice and Angie in awarding above-average marks. Dream Cake's jumbo cupcakes, 2 1/4 inches in diameter, cost $2.99 each. The smaller ones, 2 inches in diameter, are $1.99.
"For the quality of cake, the price is outstanding," Angie said.
In the end, Dream Cake was the favorite bakery of Angie and Alice, and the least favorite of Sam and Abby.
Testers laid down their pens. Wildly disparate scores were entered into a spreadsheet. Carolina Cupcakery emerged triumphant.
Carolina Cupcakery
237 Carmichael Way, Chesapeake,
and 2019 Colley Ave., Suite 102, Norfolk
www.carolinacupcakery.com, (757) 351-1548
Price: $3.89 each or $42.79 a dozen for gourmet jumbo cupcakes
Score: 72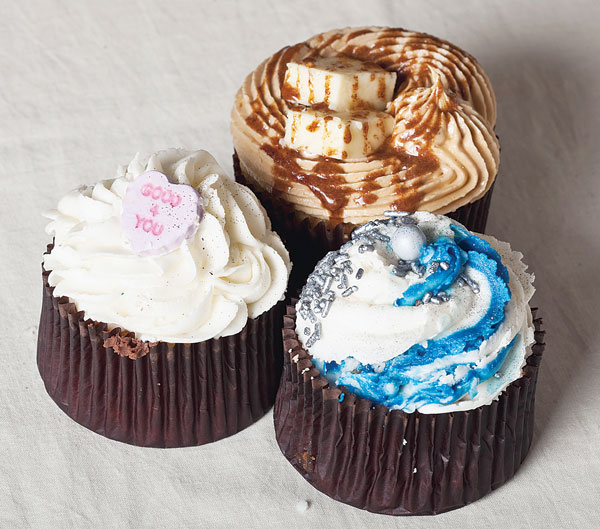 What they said: 
"So aesthetically pleasing. I've already devoured it."  –  Angie, on the French Toast Fanatic cupcake
"The right price for the size." – Sam, on the Excellent Carrotcake
"Not enough peanut butter flavor. … The icing is too sweet." – Alice, on the Snickers cupcake
"Smells just like when you take a batch of chocolate chip cookies out of the oven. Very moist, smooth marble cake." – Abby, on Kylie's Cookie Dough
Categories:
Uncategorized